VISA REGULATIONS
Visa-free travel to Belarus
Citizens of the following countries can travel to Belarus by plane, railway, bus or car without obtaining a Belarusian entry visa:
Argentina, Armenia, Azerbaijan, Brazil, Cuba, Ecuador, Georgia, Israel, Kazakhstan, Kyrgyzstan, Macedonia (an invitation letter is required), Moldova, Mongolia, Montenegro (an invitation letter is required), China, Qatar, Russia, Serbia, Tajikistan, Turkey, United Arab Emirates, Ukraine, Uzbekistan, Venezuela
In addition, citizens of 74 countries as listed below are granted visa-free entrance to Belarus if they are arriving and departing by plane via the Minsk National Airport (MSQ) except for flights departing from/to Russia.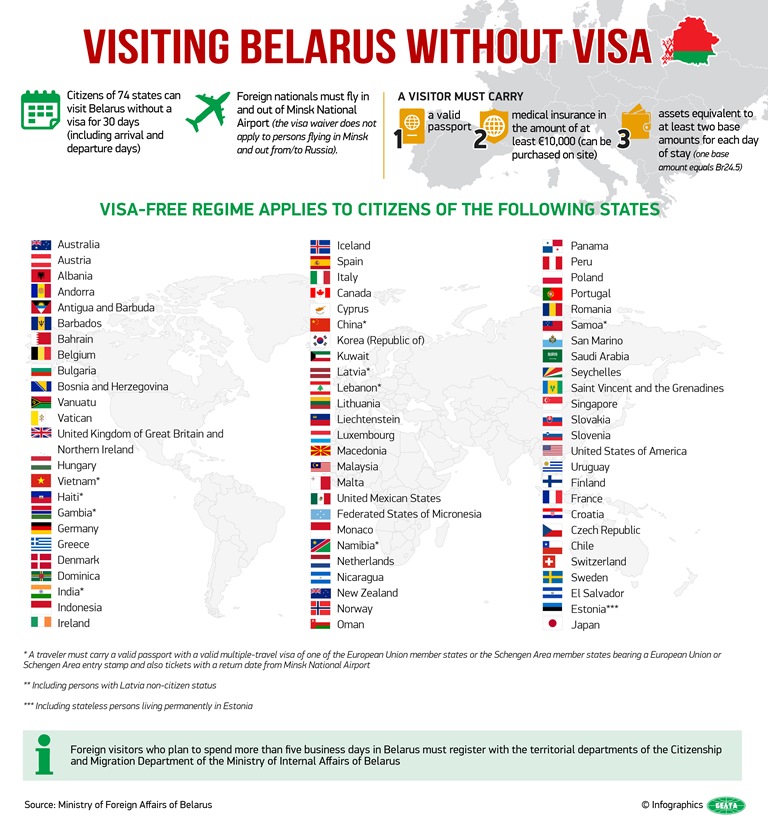 A visa-free traveler must have the following documents when arriving to Belarus:
- a valid passport
- a round-trip ticket
- a medical insurance with coverage for at least 10 000 EUR valid in Belarus during the whole duration of stay
- daily allowance of 50 BYN per each day of stay (or an equivalent sum of money in foreign currency: approximately 20 EUR, 25 USD, 1550 RUB per day)
- a valid multiple-entry visa to the EU states or Schengen zone that has already been used at least once (applies to the citizens of Vietnam, Haiti, Gambia, India, China, Lebanon, Namibia, Samoa).
In any other case not listed above, please contact the EuroDisplay 2019 Organizing team or a Belarusian embassy in your home country to learn about visa regulations applicable for your case.
Registration of foreign citizens upon arrival
When staying in Belarus for more than 5 working days (i.e. Monday through Saturday), foreign citizens need to register at the Minsk City Departments on Citizenship and Migration. The date of arrival counts for the first day of stay, and the date of departure – for the last day of stay. Citizens of Kazakhstan, Russia, Ukraine, Latvia, Lithuania, Estonia are exempted from registration, if they are staying in Belarus for a period of up to 30 days. Registration is made automatically upon your check-in at the hotel or hostel. In any other cases, please contact the EuroDisplay 2019 Organizing team.